5 Tips on How to Select the Best Shade of Veneers
CosMediSmile recognises that everyone's smile is unique, and for that reason, our Dental Specialists use modern technology to custom create the perfect smile! Within your dental consultation, you will work closely with your CosMediSmile Dental Specialist, to custom design your most desired Veneers. A vital part of this consultation is ensuring the best Veneer shade is selected.
When it comes to shades of Veneers, whiter isn't always brighter, and a softer, more natural shade of white may be more complementing. Once Porcelain Veneers are fitted, the final colour cannot be changed and dental procedures such as teeth whitening will not lighten the Veneers, and may even fade, or damage the Veneer fabrication. This is why selecting the right shade of Veneers from the start is crucial!
To assist you in selecting the best shade of Veneers, you may wish to consider the below tips:
1. Use the White part of Your Eyes as a Guide
A popular way to select the perfect shade of Veneers, is to ensure that they are not whiter than the white part of your eyes. This will ensure that the Veneers look natural and compliment your face and features.
2. Use The Surrounding natural Teeth as a Guide
In most cases, Veneers are not fitted to all teeth, therefore it's vital that the Veneers look natural against the surrounding teeth. Due to this, CosMediSmile Dental Specialists recommend taking the shade of your natural teeth into consideration when deciding on the perfect shade of Veneers.
Generally, it is advised to select a shade no more than two shades lighter than your natural teeth. This ensures that once fitted, the Veneers complement the surrounding teeth. Some people's natural teeth may have a warm, red undertone, whereas others may have a cool, grey undertone. Our Dental Specialists will provide you with Veneer shade cards which act as a useful tool in matching Veneer shades to your surrounding natural teeth.
If you still desire a lighter Veneer shade, you may wish to consider having your lower and/or surrounding teeth whitened prior to your Veneers being fitted. The other option you may also wish to consider is selecting more Veneers to cover all of your natural teeth.
3. Use your Skin Tone as a Guide To Select the Best Veneer Shade
Everyone's skin colour and skin undertones are unique. As a guide, CosMediSmile Dental Specialists recommend those with fairer skin tones select brighter, whiter shades. For those with darker skin tones, it is recommended to consider a more natural Veneer shade. If your skin has darker undertones, it is also recommended to avoid Bleach Shades (BL), as bright white and bleach shades can appear unnatural.

4. Use the Veneer Shade Cards To Select the Best Veneer Shade
The Veneer shade cards are a useful tool that assists our Dental Specialists, in selecting the most suitable Veneer shade for each client. This results in a carefully curated and cohesive natural smile.
The Veneer shade cards allow for the natural tooth shade to be taken into consideration, ensuring the best veneer shade is selected for each unique smile. The Veneer shade cards consist of Reddish Brown (A), Reddish Yellow (B), Grey (C), Reddish Grey (D) and Bleach Shades (BL). Within these shade card categories, there are also subcategories.
CosMediSmile Clinics allow you a choice between 3 most common shades. 99% of Veneers fall within these shade choices. To make it simple your choices are:
1. HT BL3 (Natural)
2. HT BL2  
3. HT BL1 (Insta White / Hollywood White)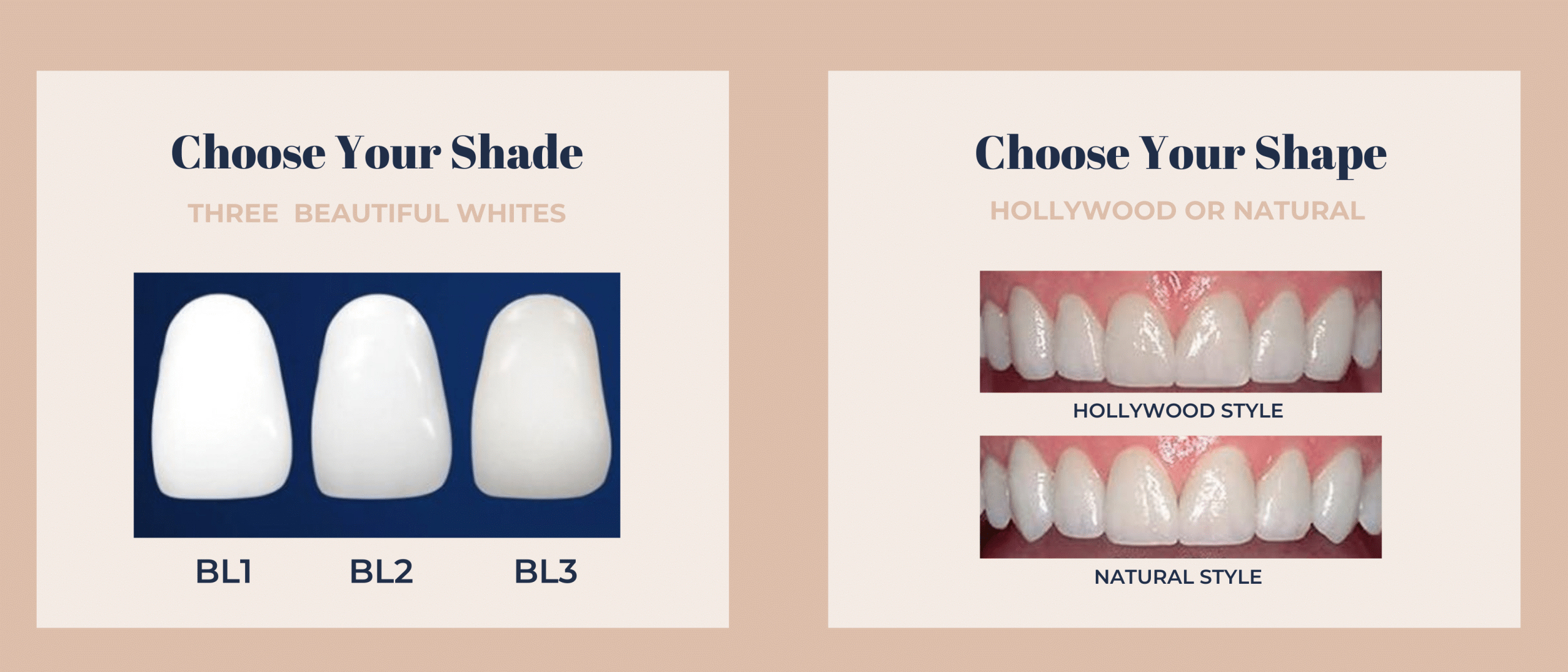 5. Discuss with your CosMediSmile Dental Specialist
Last, but definitely not least, you can be at ease knowing your CosMediSmile Dental Specialist will be able to assist you in selecting a well suited Veneer Shade! Our Dental Specialists will use their extensive knowledge and experience with Veneer shade selection, as well as taking your desired smile expectations into consideration.
Your final Veneer shade selection should be one that complements all of your features, including your surrounding teeth, eye colour and skin tone.  With this information in mind, you are one step closer to achieving your dream smile.
If you're interested in dental Veneers or any other dental treatment at our Clinics on the Gold Coast, Melbourne or in Thailand, please fill out our Online Assessment Form and we can organise a FREE Cosmetic Dentistry recommendation.